Private webinars are a Realm Maker member benefit. You can either attend or rewatch from the links posted in the RealmSphere. Interested in becoming a member? Information is included at the bottom of this post!
---
Webinar Series: Pick a Fight with Carla Hoch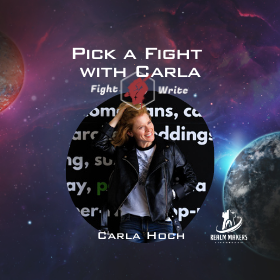 Need help with a fight scene you're writing? Want to know the best way to injure someone? Looking for a critique on your work?
In our November episode, Carla regaled us with her wit and ferocity and challenged us to bring a fight scene to the next Pick a Fight event on January 9th. We're going to do some practical demonstrations, writer style. Let's get blood on those pages and then critique 'em up.
---
Webinar Series: StoryTime with Havok
The fastest way to becoming a better writer is to master short fiction. In October's episode, we learned about hooking your reading. In December, Andrew's going to teach us how to leave 'em satisfied. In January, we're going to learn about concise writing. Don't miss out on these opportunities to learn the ins and outs of flash fiction with Andrew Winch, Editor-in-Chief at Havok Publishing.
---
NEW! Zoom Watch Party
Want to get together with your fellow Realmies and chat about writing? We're hosting our first ever Zoom watch party. We're going to replay one of our conference sessions and discuss it as we go! Type in the chat, talk at the end. Bring your own popcorn. Details in the RealmSphere.
---
If you're not already a member, you can get access to great member benefits like these for as little as $4.99 a month. Become a Prime, Professional, Published, or Business member today!