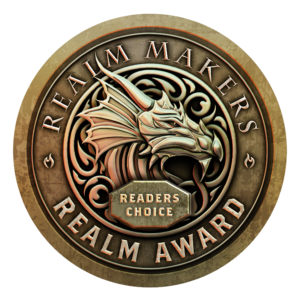 Nominate your favorite reads from the previous calendar year for the Realm Makers Readers' Choice Award! Formerly known as the Alliance Award, the Realm Award: Readers' Choice will celebrate the best speculative fiction novel published in the previous calendar year.
Between April 2-23, we're taking nominations, so enter your three (3) favorites.

That's three DIFFERENT books, folks. Not the same book three times…

And don't try to game the system by nominating books under different names or email addresses. We appreciate your fervor, but that's a good way to get your nominations disqualified!
VOTING FOR FINALISTS: MAY 1-21
Vote from our list of nominated books (our semifinalists). The five books with the most votes will become Readers' Choice finalists. Here's what you need to know:
Anyone can vote.

You can only vote once. Multiple entries will be disqualified. Please don't try to game the system by using multiple names and email addresses so you can vote more than once. While we appreciate your zeal for your favorite books, if we suspect you're trying to cheat, those votes will be disqualified.
You can only vote for books you've actually read.
Tell us your TOP 5 favorites from the list.


Be thoughtful. The authors deserve that.
VOTING FOR THE WINNER: JUNE 1-21
Vote from our list of finalists. The rules are the same as the previous round.
The book with the most votes will become our Readers' Choice Award Winner. Winners are announced at the Realm Makers Conference Awards Banquet in July.