 Lauren H. Brandenburg & Gillian Bronte Adams
Are you a creative person who loves science fiction and fantasy, but also makes your spiritual growth a high priority? Have you found that you're a little too weird for the usual church crowd, but don't exactly fit in with the sci-fi convention set either? Well, now there's a place for you to learn, share your talents, and commune with people a lot like yourself. Find your tribe at the annual Realm Makers Conference.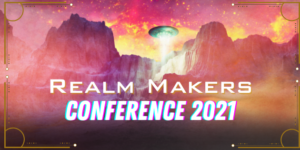 Are you looking forward to new opportunities to...
Read More
We're looking ahead to 2021: The Realm Awards,...
Read More
Listen to best-selling author N.D. Wilson's Realm Makers Conference Keynote from 2020 as he brings us "Christmas in Every Word: The Magic of the Real" and explains why you can be a Christian and love fantasy.